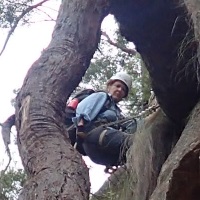 NORTHERN WOLLEMI – 20 – 22 October 2017
A chance to go on a trip with John G should never be passed up, so when he said he was doing some exploratory bushwalks looking for "slots" in the Coorongooba area, I was "in like Flynn" (an Aussie expression).  Little did I know rock climbing would be involved!
DAY 1 – Friday – exploring the ledges on the southern side of camp-ground
Coorongooba is too far to go for one day, so I said I'd be going up Friday and what do you know, seems like almost everyone on the trip liked the idea.  As it turned out, there were six of us (John, Jeff B, Cat & Garth McL and Anna O-B) and the intention was to do Coin Slot but the forecast rain started early in the morning so we decided to do one of John's exploratory day walks (in the rain) instead, looking at a creek to see if there were any canyon sections in it.
We decided to call the creek we visited "Drowned Rats Canyon" as we all looked like drowned rats when we got back to the tents.  My tent had leaked a little in the rain (what can you expect from an Aldi tent), and Jeff's Macpack Olympus also leaked a little.  Thankfully, John had brought along his camper trailer so after we all cleaned up we huddled in there out of the rain for happy hour.  Heather R and Rod S turned up during the night.
Day 2 – Saturday – Coin Slot Canyon
The rain had eased off during the night and the rock would be dry, so we were off to do Coin Slot – I knew there were some climbs in it, but we were going a way where the climbs were "easier", so I was happy about that!
Day 3 – Route finding through a cliff-line
Catherine and Garth left on Sunday morning for a family reunion and Jeff stayed in camp to pack up for an early departure in the afternoon, so that left John, Rod, Heather, Anna and me to do a little exploring.
John's target was to get to the top of the cliff-line NW of the junction of Coorongooba and  Capertee River.  I think his words were "we'll look for a way up through the cliff line if there is one".  I didn't realise how much rock climbing would be involved, and most of you know how much I don't like rock climbing!  I vowed after the last time that I'd get in some practice at a climbing gym but that didn't ever happen!
We set off from the campsite at 9am and were walking up the creek roughly north, traversing the spur (about 60m in elevation) and getting to the base of the cliff-line by about 10am.  We had 70m more to climb to get to the "mid-level" which was the base of the top cliff-face.
It took us 4 hours to get to the top in the morning, but only 2 hours to get back down.  We were back at the cars at 3.30pm.
A great weekend, lots of climbing for me and more resolutions to (a) get fitter – too slow going up the hills and (b) do some climbing practice to gain a bit of confidence.  A big thanks to John (and the rest of the party) for putting up with my swear words on the climbs and their patience waiting for me to get to the top!