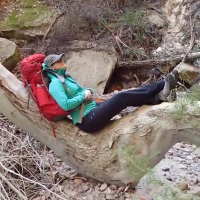 GARDENS OF STONE NP – Little Capertee Creek > Newnes Plateau > Mt Dawson > Minotaurs Lair Canyon > Wolgan Road –  8 & 9 July 2017
Well, this was almost an epic but Jeff's local knowledge saved the day … but more about that later! 
A few years ago now, Jeff showed me a little canyon which could be used to access the Newnes plateau or exit through the cliff-line.  Ever since then, I'd been thinking about doing a trip to the Mt Dawson camp cave and then exiting via the canyon (most people just go to Mt Dawson camp cave and then return by the same route).  At the time that Jeff showed me the canyon we didn't know that it had a name – Minotaurs Lair or Bell Minor Canyon (because in the early days when the canyon was relatively unknown, someone said they could hear a lot of Minor birds in the area).  These days it's fairly popular amongst bushwalking clubs as a day walk (or an abseil trip with a 15m abseil that obviously you can avoid).
Jeff B, Trish M, Trish N, Peter F, Greg G and Beth L joined me – don't usually get that many people on one of my walks, I must have done a good job of selling the trip!
Everyone except Jeff and I drove up on Friday morning, we drove up after work and joined them at the campfire around 8pm.  We woke to frost on the ground!  Beth drove up next morning and didn't want to get out of her warm car, I think she said it was -4 on the way to Newnes.
We positioned Jeff's Ute fairly close to the exit route and set off up Little Capertee Creek.
It was about now that we got to a cliff-line that we couldn't find a way down.  Jeff was certain that there was a "huge slot" that you walked down.  I also remembered a slot, but it wasn't "huge".  We scouted around for half an hour or so and eventually Jeff found it, I certainly don't remember going down it the last time I did this walk, but it was almost 10 years ago!
Half an hour later we came to a small cave – a spot where we'd drop our packs and go down into the creek system to pick up water.  I had told everyone that we were quietly confident of finding water, it had rained in the area recently and this was a well known spot for picking up water for Mt Dawson (which doesn't have a nearby creek).
Well, we'd had our photo opportunity on top of Mt Dawson, now it was time to head off on our route to Minotaurs Lair.  Jeff had done this route before, I hadn't. Foolishly, I had said that I'd navigate for the day (just to keep my hand in), and to give Jeff a rest from leading.
We followed the creek until we could go no further (it ended in a substantial drop), so we scrambled up the side of the creek bank and headed around underneath the cliff-line.
So, the end of another trip – was it easy?  well, apart from patches of scrub, yes it was.  We were in camp at 3.15pm – which is pretty good for an overnight walk, and there was only one big hill.  It could have ended really badly if we hadn't found water on Saturday night, but apart from that it was a great trip – and another one off my wish list!  Thanks everyone for coming with me – and thanks Trish for the massage on Saturday evening!