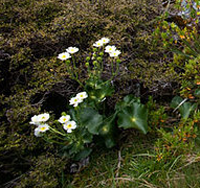 NEW ZEALAND – FEBRUARY 2007
Muddy Creek > Shelter Rock Hut > Dart Hut > Dart Glacier & Cascade Saddle > Daley's Flat Hut > Chinaman's Bluff.
We took a couple of days off at Glenorchy after the Routeburn/Greenstone track, washing clothes and organising more food (and checking out the possum beanies) and then we were off again, Peter C (fearless leader and project manager), Kathy D (a rookie), Rob McC, Mark M, Ross W and me.  We were all fairly fit after walking the Routeburn/Greenstone.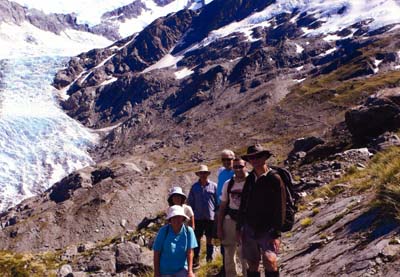 DAY 1 – Muddy Creek to Shelter Rock Hut: 16.5km, height gain 400m, 5/7 hours
We were picked up by the minibus and deposited at Muddy Flats beside the Rees River. We started walking at 9:45 in cloudy and cool weather, and followed the vehicle track from Muddy Creek for an hour, and then followed marker poles across the grassy flats beyond Arthurs Creek. It was not very muddy as no rain had fallen for days. Our boots did get wet
crossing Twenty Five Mile Creek. A swing bridge crossed the river and we were into Mount Aspiring National Park. The track continued through beech forest past Clarke Slip. Above the bush the track crossed several gullies, with fresh water on a now sunny and hot afternoon.  This area has avalanche paths and can be dangerous in the shoulder seasons when there is still snow on the mountains. It seemed a long stretch until we saw a foot bridge crossing to the east bank of the river and to Shelter Rock Hut (20 bunks), the hut was crowded hut, with no screens on the windows to keep out the sand flies. We had our first [of daily] Happy Hours, watching the sun set over the mountains. Then we cooked and ate outside (because of the crowds).  More people turned up which meant that four ended up sleeping on the floor of our room.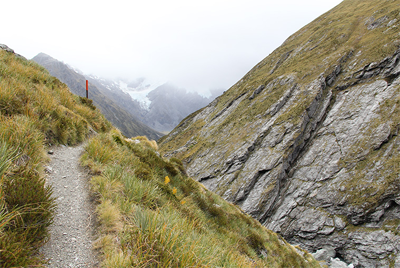 DAY 2 – Shelter Rock Hut to Dart Hut: 9 km, 550m height gain, 4/6 hours
Shelter Rock Hut (900m) to Dart Hut (1000m), via Rees Saddle (1447m). We left at 8:05, in a light mist before most of the crowd, and started the climb from Shelter Rock Hut to Rees Saddle over 5km away; the track followed the east bank of the river, in scrub as the track rose to about 100m above the river; we saw 4 keas on a rock, watching us closely. The start of the day wasn't that great, walking in rain coats, mist and fog, not much to see. Then, the clouds cleared for a while, and the route sidled into the tussock filled upper basin, and followed the stream bed. There track went close to the bluff on the left on the final steep climb to Rees Saddle, and the clouds closed in again behind us (so we could not see how steep it was!). We had an early lunch on the saddle view still not great, still overcast.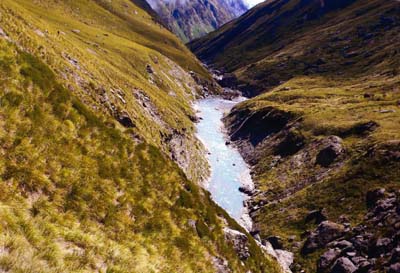 The 4km to Dart Hut descended 500m; from the Saddle we followed the orange markers past tarns to a tussock bench well above Snowy Creek. Each turn brought views of the glaciers across the Dart valley, it was truly stunning.
From here the track traversed steep slopes that can be dangerous when wet. A bridge crossed Upper Snowy Creek, it's removed each winter must have something to do with the snow. The track sidled across broken slopes before descending sharply. A swing bridge crossed Snowy Creek to a really nice, new, but overcrowded, Dart Hut (30 bunks) on the left bank.  Happy hour was in the sun on the rocks by the river.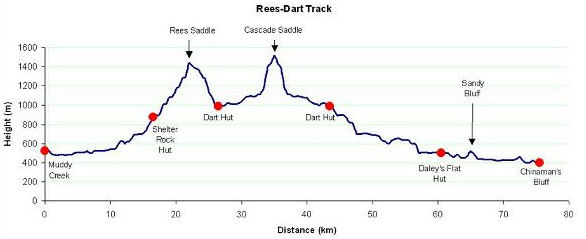 DAY 3 – Dart Hut – Dart Glacier and Cascade Saddle side trip; 16kms return; 7/9 hrs
We were on our way by 8:20 a beautiful day.  From the Hut we followed the river, mostly on scree slopes and through boulder fields.  Ever few metres there was a cairn that had been built in the style of those in Nepal, some were really intricate, and some were very high, the temptation was to add another small stone but then there was the fear that the whole thing would topple like a rock Jenga.  It was an easy 2 hours crossing a few minor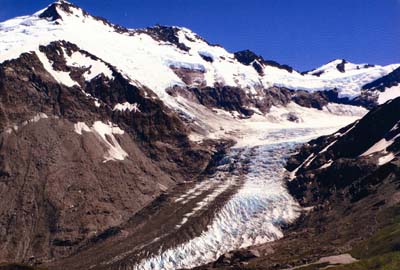 creeks, and then we began a steeper climb from the river, across a couple of narrow
scree slopes, and up to the saddle at 1524m. The rewards were worth it, magnificent views of Matukituki Valley, Mount Aspiring and the incredible Dart Glacier. We heard a few ice falls and saw a small one. What a spectacular place for lunch high up overlooking the valley.  On the trip back I went down to the river and got up close to the glacier, amazing, the colour of the ice was fascinating.  One of the best days bushwalking that I've ever had. We stayed again at Dart Hut [even more packed], swam and washed clothes in the creek, and ate on the balcony.
DAY 4 – Dart Hut – Lay day. Another fabulous day great weather, we each did our own thing, Peter had factored in a lay day just in case Day 3 was overcast we wouldn't have wanted to miss the views with a rainy day.  So, we just laid around played cards and watched as most people left and we had the hut almost to ourselves.
DAY 5 – Dart Hut to Daley's Flat Hut: 16 km, 6/7 hours.  A change was forecast, but it was clear again at dawn. We rolled out at 8:25, and from Dart Hut it was an easy stroll on a great path through the trees, and a slow descent through beech forest to grassy Cattle Flat,
with more glaciers and waterfalls in the mountains to our right. A faint track marked by cairns lead us across the 4km of Cattle Flat, and up and down lots of terraces and gullies. We had lunch by Picnic Rock, in the sun, and not too many sand flies. At the bottom end of the flat there was a well marked track through beech forest to old and messy Daleys Flat Hut (20 bunks), above Dart River. This place was sand fly hell, I went down to wash in the creek and was covered in the little buggers, no incentive to clean up at all.  We stayed inside the hut most of the time to escape the sand flies.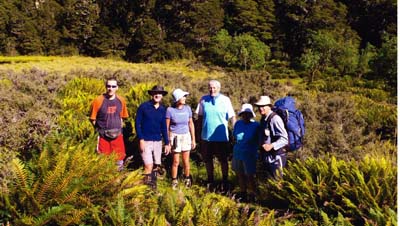 DAY 6 – Daleys Flat to Chinamans Bluff and road end: 10 km, 4/5 hours. We didn't need to start early as we weren't getting picked up until 3pm.  After 10 minutes or so, we were in beech forest to Dredge Flat, and then through forest and across gravel flats to Sandy Bluff. The new track climbs steeply for about 70 m, with great views of the river and some new steps and hand rails, before sidling across the bluff and descending to Sandy Flat. About here we heard and saw the first jet boat on the Dart, and the noise was such an intrusion after days of peace and quiet; we saw about 5 boats in all. After crossing gravel flats a well marked track followed the river through forest for about an hour. From here the track alternated between unmarked flats and well marked forest, but we could not stop for long due to the bloody sand flies. Chinaman's Bluff had a benched track around the bluff to grassy flats at the car park. Sad times, as it was all now ending. We arrived at 1:40 and the driver was already there, with cold beers he drove us to Queenstown where we picked up our bags and then went down to Central YHA again. A great trip, I'd do it again.